We are expanding
our material know-how
and test services with
the DEKRA laboratories!
We are expanding
our material know-how
and test services with
the DEKRA laboratories!
Accredited test laboratory
to DIN EN ISO / IEC 17025.
Your specialist for metals,
plastics, elastomers.
The requirements for materials and coating systems are constantly increasing. The corrosion resistance of components, groups or technical products is an essential criterion for the quality of materials and galvanic coatings. This includes, among other things, defects from the base material and metallic coating.
During their lifespan, they are all exposed to various environmental influences. Corrosion tests should map the corrosion processes in nature in a short time. We simulate these climatic conditions in advance. In doing so, we check whether the function of your products is impaired. For this purpose, materials or components are exposed to a corrosive atmosphere in test chambers. Even if the tests cannot map the global climate diversity, they can nevertheless take into account important corrosion-promoting factors.
With our many years of experience and our know-how in the field of materials, surfaces and corrosion protection, we support you in reducing costs due to corrosion and its consequences. We can carry out fundamental investigations for you or just compensate for your current capacity bottleneck. Individual customer requests are of course taken into account.
Our services at a glance:
Salt spray test (NSS test) according to DIN EN ISO 9227
Condensation test (CH and AHT) according to DIN EN ISO 6270-2 (old: DIN 50017)
Corrosion cycle test according to DIN EN ISO 11997
Corrosion test according to VDA 621-415
Corrosion resistance test (intergranular corrosion)
The salt spray test, salt spray mist test, corrosion test or the corrosion checking are all terms for the same test method.
For the investigation of the corrosion behavior we have a salt spray test chamber SC KWT 450 including a corrosion-climate alternating test device SC / KWT 450 from the company Weiß Umwelttechnik GmbH. With the salt spray test in the salt spray chamber, material tests can be carried out according to various national and international standards.
In contrast to the salt spray test, the condensation test uses pure distilled water to condense on the sample. To do this, the water is evaporated and introduced into the chamber. The chamber temperature is regulated to 40 ° C, the humidity is almost 100%. During the course of the experiment, phases of condensation water can alternate with ventilation or cooling phases.
Condensation test (CH and AHT) according to DIN EN ISO 6270-2
Part 2 of the DIN EN ISO 6270 standard is used to specify uniform conditions and procedures for conditioning prepared test specimens that are to be examined for damage that occurs in a moist environment such as a constant climate of condensation water or an alternating climate of condensation water. The tests serve to clarify the behavior and to identify errors in the corrosion protection of the test specimens in humid ambient climates.
Applications and advantages
The automotive industry has developed climate change tests – such as VDA 621-415 – for the products it markets worldwide, which are characterized by the fact that salt spray phases alternate with phases of high or low temperature, high and low humidity, and periods of rest. These variations in salt concentration, air humidity and temperature cause the corrosion environment on the material / component to change again and again.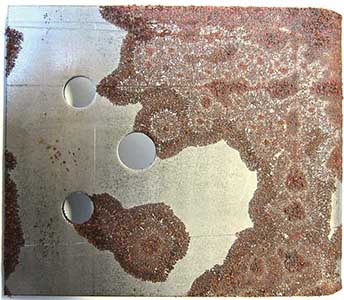 Condensation test on a sheet metal AHT 15 days according to DIN EN ISO 6270-2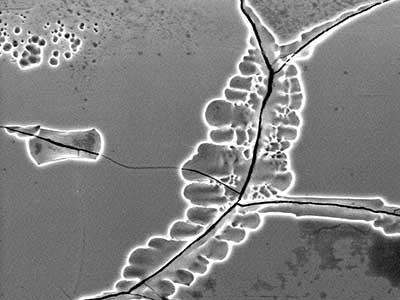 Corrosion in a hard chrome layer (2000: 1)