We are expanding
our material know-how
and test services with
the DEKRA laboratories!
We are expanding
our material know-how
and test services with
the DEKRA laboratories!
Accredited test laboratory
to DIN EN ISO / IEC 17025.
Your specialist for metals,
plastics, elastomers.
Infrared spectroscopy is a method of vibration spectroscopy and is used to characterize organic materials.
In infrared spectroscopy, radiation in the mid-infrared range – specified in the reciprocal of the wavelength, the so-called wave number (cm-1) – is radiated into a substance. Some wavelengths are absorbed by the material because their energies stimulate the oscillation of certain groups of molecules. Absorption bands can then be found in the registered spectrum at these energies.
Similar to a fingerprint, the infrared spectrum is characteristic of the molecule being examined and can be used, for example, to identify substances.
Fourier transform infrared spectroscopy (FT-IR) is a special variant of IR spectroscopy.
Via Fourier transformation, IR spectra are calculated from the interferograms measured with the aid of an interferometer.
The FT-IR process covers a wide range of chemical applications, particularly with polymers and organic compounds, from simply identifying chemical compounds to processing and regulatory compliance, In addition, FT-IR spectroscopy has proven itself for quality control of industrially produced polymers and the raw materials used.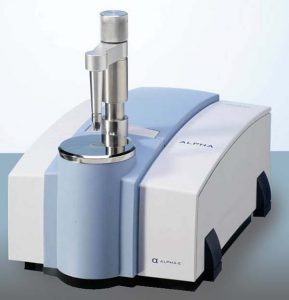 FT-IR analysis of plastics, elastomers and organic substances: possible uses and advantages
The special importance of FT-IR spectroscopy is based both on the very high information content of a spectrum and on the numerous possibilities for sample measurement and substance preparation. In addition, important data on the molecular structure can be derived from an IR spectrum. The IR spectrum is of particular importance for the calculation of thermodynamic constants, as a certain proportion of the specific heat of a substance is defined in the oscillation energy of the atoms.
Example: Material characterization of a compound component after a resistance test (media storage)
The FT-IR spectra of 4 samples (samples A, B, C, D) of a compound show no difference from one another.
Using the IR analysis, it was not possible to determine any impairment of any of the samples by the resistance test (Figure 1)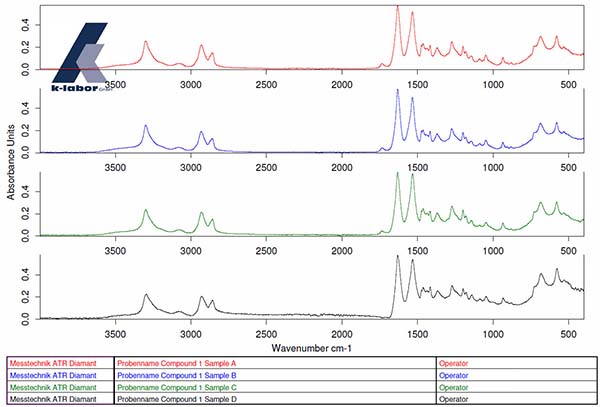 Graphic 1: Sample A (red), Sample B (blue), Sample C (green) and Sample D (black)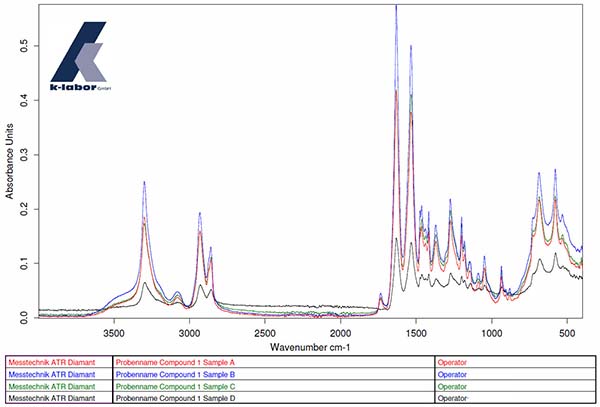 Graphic 2: Superimposed FT-IR spectra from the four samples of the compound