We are expanding
our material know-how
and test services with
the DEKRA laboratories!
We are expanding
our material know-how
and test services with
the DEKRA laboratories!
Accredited test laboratory
to DIN EN ISO / IEC 17025.
Your specialist for metals,
plastics, elastomers.
Color measurement according to DIN 50331 / DIN 6174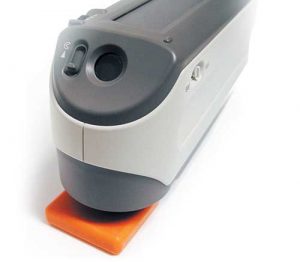 Color measurements play an important role in many manufacturing areas and require the measurement of the finest color differences that cannot be reliably recognized by the human eye.
The objective measurement of colors (colorimetry) is used to describe the color effect (chromaticity) of samples by means of objective numbers, i.e. independent of the subjective color impression of an observer.
By using a portable color measurement system, we can provide solutions to color-relevant problems on site:
Color control – even on inaccessible objects or those that are already integrated in the manufacturing process. We provide mobile, precise and reliable results right in front of your eyes.
Blue is not always blue: The color perception of women and men is different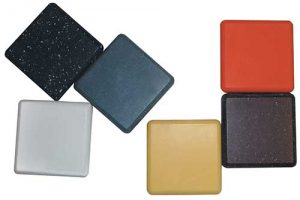 Did you know that both genders perceive the differences in color tones the same way, but that men see the entire color spectrum a little more bluish? While the human eye is not suitable for accurately assessing colors, this is quite easy with a colorimeter.
It provides numerical results based on internationally standardized standards.
The areas of application for color measurements are very diverse: color controls on painted surfaces, plastics, metals, textiles and even food. The smallest measurable area is 3 mm in diameter.
When colors are viewed under different types of light, they can appear differently. This is referred to as metamerism, which is recognized on the basis of the measured spectral reflection curves. Calm blue: The color perception of women and men is different
Color measurement according to CIELAB
These color measurements are carried out using a spectrophotometer, which measures the reflectance values ​​of visible light from infrared to ultraviolet. This allows the color to be defined and color deviations calculated. The measurements are carried out under defined UV lighting and geometry. The determination of color numbers is described, for example, in DIN 5033-3 or DIN 6174,
Color differences the ISO 7724-3.
The spectrophotometer we use also checks whether colors contain optical brighteners or UV protection agents (stabilizers) or whether color recipes have been adhered to.
We can also compare different types of surfaces, for example smooth and matt structures, by measuring the color with or without gloss.
A gray scale is used to evaluate the change in colors and is therefore always used in a comparative manner (for example, treated versus untreated surfaces). It consists of contrast levels that are assigned with the eye and therefore not only records the actual color, but also properties of visual color perception such as roughness or gloss.
Multi-angle gloss measurement according to DIN 67530 / DIN EN ISO 2813
In addition to color measurement, gloss measurement is often required. Gloss is a visual perception resulting in viewing a surface. The perception of gloss is more pronounced the more directed the light is reflected.
Only the combination of both parameters (color and gloss) allows an assessment of the visual appearance of a surface.
The gloss is determined with a reflectometer at a certain angle and is based on a standard, for example polished black glass. Such a measurement is described in DIN EN ISO 2813.
For better differentiation of the measured values, measurements are made with different measuring angles depending on the gloss: high gloss 20 °, medium gloss 60 ° and matt gloss 85 °. Nowadays, so-called "TriGloss" devices are used as measuring devices, which can measure all three angles.