We are expanding
our material know-how
and test services with
the DEKRA laboratories!
We are expanding
our material know-how
and test services with
the DEKRA laboratories!
Accredited test laboratory
to DIN EN ISO / IEC 17025.
Your specialist for metals,
plastics, elastomers.
GC / MS analysis (gas chromatography / mass spectrometry).
In our test laboratory we analyze the ingredients of organic substances using GC / MS analysis.
Gas chromatography is one of the most important methods in the instrumental analysis of organic compounds and is used in areas such as medicine, biology, food chemistry, environmental analysis and forensics.
GC / MS is the coupling of a gas chromatography device (GC) with a mass spectrometer (MS).
The gas chromatograph is used to separate the substance mixture to be examined and the mass spectrometer is used to identify and, if necessary, quantify the individual components.
The column of a gas chromatography device consists of a thin tube or capillary as the stationary phase and an inert gas flows through it as the mobile phase. The substance mixture, which is also gaseous and consists of neutral molecules, is injected into this gas flow.
Each component of the mixture of substances has a characteristic running speed, so that the mixture is separated into individual substances based on their retention time.
Application of gas chromatography - GC / MS analysis
Do you want to have ingredients analyzed? Gas chromatography is a very sensitive method for analyzing mixtures of substances. It can be used to separate complex mixtures of substances into individual components. In many cases, the retention time alone is sufficient for a substance to be identified by the time it takes a substance from the time of injection to passing through the detector.
By combining it with a mass spectrometer, the so-called GC / MS coupling, very small amounts of substance can be detected and structure elucidation can be carried out at the same time. After calibration, the integrated peak area of the substance allows conclusions to be drawn about its mass fractions in the sample.
What are the advantages of GC / MS analysis when investigating damage and determining the causes of damage?
Gas chromatography with a connected mass spectrometer (GC / MS) is still the reference method in environmental analysis and in forensic analysis. It also plays an important role in damage analysis.
We mainly use GC / MS analysis to determine unknown organic substances.
Due to the high separation efficiency of the GC column and the subsequent mass spectrometric detection, the specificity is extremely high. Gas chromatographic methods are suitable for determining all volatile or vaporizable organic substances.
Gas chromatography stands out from other chromatographic processes, in particular high pressure liquid chromatography
superior separation performance, which makes it possible to separate the substances in question from accompanying substances and to specifically record them
very low detection limits and high sensitivities, which allow penetration into the concentration range of pg / l.
Contact us today to find out how we can support you with our fault and damage analysis to determine the causes of faults, narrow down responsibilities and determine corrective measures.
Our services at a glance:
Determination of ingredients (organic substances)
Emission behavior of plastics according to VW 50180
Emission analysis according to VDA 278
Determination of the emission of organic compounds (individual substance emission and total emission)
according to PV 3341
Determination of the VOC according to PPV 8042
Emission of organic compounds according to PPV 8041
Outgassing (general determination of volatile organic substances, e.g. plasticizers, silane)
GC / MS analysis for the determination of plasticizers, flame retardants
GC / MS analysis for the determination of organic substances
Quantitative analysis of polycycl. aromatic hydrocarbons (PAH) according to the EPA list
Quantitative determination of brominated flame retardants (PBB, PBDE) using GC-MSD analysis
Quantitative GC / MS analysis for the determination of phthalates
Determination of prohibited ingredients in electronic cigarettes and refill containers
(Ordinance on Tobacco Products and Related Products "(Tobacco Products Ordinance – TabakerzV) Annex 2 (to Section 28)
Example of a GC / MS analysis to determine VOCs
Volatile Organic Compounds (VOC) describes a large number of individual substances that are given off by materials / products – for example plastics
adhesives
paints and varnishes
toys
consumer goods
coatings etc.
Depending on their volatility, these compounds evaporate even at low temperatures and can be recorded, identified and quantified using different analytical methods – here GC / MS analysis. The analysis result is shown in a chromatogram.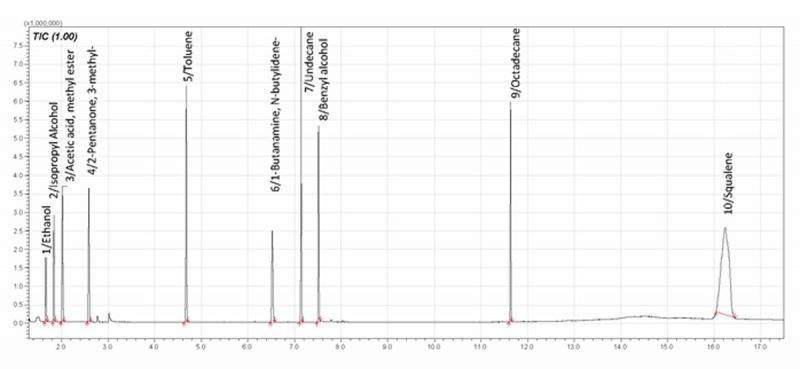 GC / MS analysis for the determination of VOCs
Comparison between classic solid-liquid extraction and thermal desorption of PVC granules:

Extraction with DCM and then precipitation with C6 => filtration using a syringe filter (PTFE)

Desorption temperature of 105 ° C for 30 minutes
According to the Consumer Goods Ordinance, DINP is not permitted in toys and baby items that children can put into their mouths with a mass fraction of more than 0.1%. According to RL 2007/19 / EG food safety 5mg / kg, an SML (Specific Migration Limit) must not be exceeded.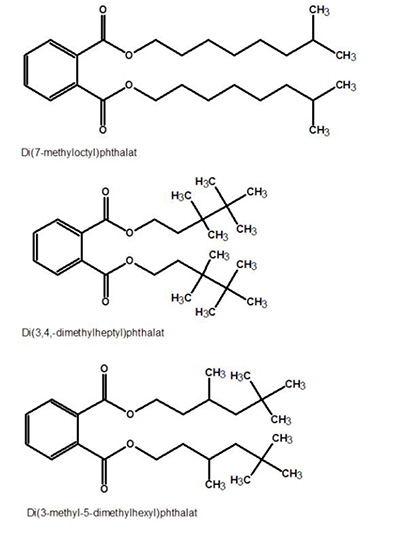 Exemplary structural formula of the 3 DINP isomers
DINP is used as a plasticizer in PVC products. This is called PCV-P (plasticized PVC). Without plasticizers, PVC is a very hard and brittle plastic, which makes it more elastic and tougher. DINP is used because of its low vapor pressure, weak odor and good cold behavior (cold flexibility).