Accredited test laboratory
to DIN EN ISO/IEC 17025.
Your specialist for metals,
plastics, elastomers.
TGA - thermogravimetric analysis.
The method of thermogravimetric analysis offers a multitude of advantages compared to the previously used methods – and the analysis of plastics, especially elastomers, is thereby vastly improved. Thermogravimetric analysis is also a reliable tool for examining a large number of material properties in the research and development of new materials.
Are the properties of a rubber seal pivotal for the function of a component?
If this is the case, we can precisely qualify the seal in terms of its composition and properties. In order to further increase the quality of the results in the qualification of elastomers, we supplement the analysis of FT-IR spectroscopy, DSC analysis and EDX analysis of fillers with a TGA (thermogravimetric analysis). This analysis technology provides additional information and rounds off the polymer characterization. With its precise temperature control, coupled with a highly sensitive weighing unit, it offers the possibility of tracking the degradation processes of plastics and elastomers and drawing conclusions about polymer blends, admixtures or polymer damage. Furthermore, moisture and plasticizer proportions, the content of organic fillers, e.g. carbon black or carbon fibers, as well as the proportion of inorganic fillers and reinforcing materials can be determined very precisely.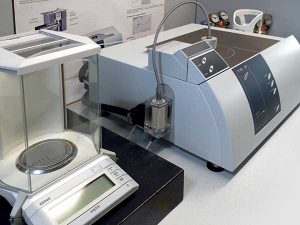 TG analyzer with weighing unit
Example: Determination of the material composition of an elastomer (FKM)
Determination of the degradation behavior
Determination of the filler and carbon black content
Example: Determination of the filler content in a plastic (talc-filled PP)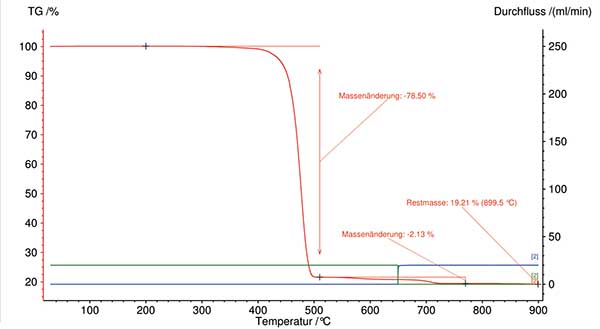 Example: Determining the composition of a paper