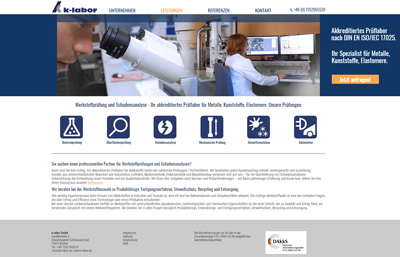 It is attractive, modern and independent: Our new k-labor website!
After almost a year of facelift, it has not only changed its appearance. The fundamentally modernized responsive-enabled website https://k-labor.de is now easily accessible while on the move.
It enables quick, easy and secure access to all content, regardless of the device used.
Our new website simply better reflects what exactly we do, who we do it for and who we are.
In addition to the changes in optics and technology, the main focus of the redesign is on adapting the content to the needs of our target groups and the clear navigation structure of the website.
It is informative and user-friendly.
It provides information about our company, our corporate policy, accreditation and quality awareness of our accredited test laboratory. And that with expressive images and reader-friendly texts.
You will get to know our team of experts, you can find out more about our job offers or you will be kept informed about our activities. You can easily and conveniently get an overview of all divisions of our wide range of services and get an even more detailed insight into our tests and test methods in the field of material testing and damage analysis.
She looks forward to inquiries and feedback.
Of course, a company website is designed to be found and requested. Our contact page provides all important communication channels for this.
And of course we look forward to your feedback by email to ilka.rehberger@k-labor.de and are just as grateful for suggestions and comments as for praise or criticism.